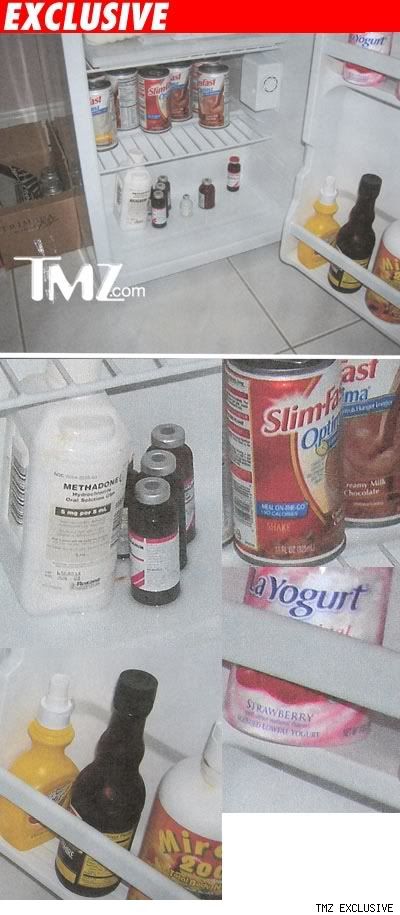 TMZ obtained a photo of the refrigerator in Anna Nicole Smith's master bedroom at her home in the Bahamas. The contents are a bit shocking: the biggest bottle of methadone I have ever seen, along with a few cans of Slim-Fast.
The fridge also contained Miracle 2000 (marketed as a nutritional supplement for "today's active lifestyle"), French's Worcestershire Sauce, yogurt and spray butter. It also appears there are vials of injectable medicines.

The methadone is compelling, as Smith's son Daniel died from a combination of drugs that included methadone. Law enforcement sources in the Bahamas tell TMZ that at least one witness has come forward and said Howard K. Stern supplied Daniel with methadone just before he died, and flushed the remaining stash down the toilet. That witness is expected to testify next month at the coroner's inquest into Daniel's death.

Now Stern is placed in the same home with another stash of methadone — the home he shared with Smith.

TMZ has confirmed that law enforcement in the Bahamas is aware of the contents of the refrigerator.
I'm really wondering what she did with the Worcestershire Sauce. The use for the spray butter seems kind of obvious.
No Comments »