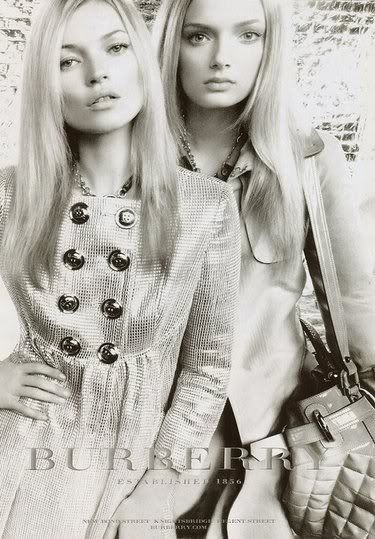 Kate Moss and Burberry are back on good terms again. The fashion house dropped her in 2005 after photos surfaced of the supermodel diving face first into a pile of cocaine. Those problems are now behind Kate, and she's starring in a series of ads for Burberry shot by famed photographer Mario Testino.
she stars in a 1960s-style line-up of London's hippest young things, including Bryan Ferry's sons Isaac and Otis, Keith Richards' daughters Theodora and Alexandra, Ronnie Wood's son Jesse and Richard Branson's son, Sam.
Although I talk a lot of smack about Kate, I gotta give her props–the ads look gorgeous.